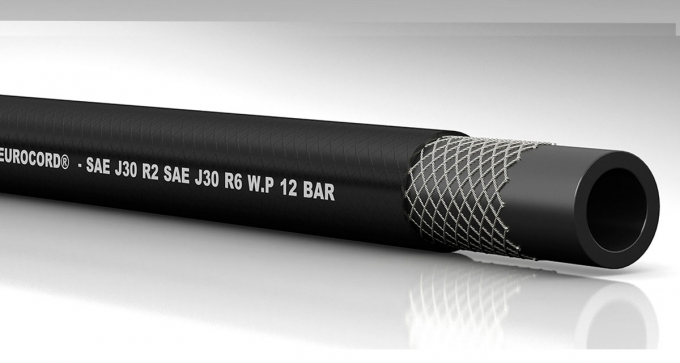 CARBO / LN SAE J30 R2 R6
SATIHOSE®
Industrial rubber and pvc hoses
Use
Suitable for the delivery of unleaded fuels (EN 228:2017) and diesel oils (EN 590:2017) for cars, trucks and tractors. Suitable for B100 (100% biodiesel = RME), B20, B7 (EN 590:2017), E5 (EN 228:2017), E10, E85 and E100. The used liner fulfills RMA class A.
Structure
Tube: Black NBR rubber
Reinforcement: Spiral textile.
Cover: Black and smooth syntetic rubber, ozone, abrasion and oil resistant
Surface: Smooth.
Temperature
-30°C / +100°C -22°F / +212°F
Packaging
PACKAGING IN RED POLYETHYLENE
Special notes
NORME / NORMS: SAE J30R2 – SAE J30R6
MARCATURA / MARKING:
EUROCORD® SAE J30 R2 SAE J30R6 W.P 12 BAR
Declaration of conformity
Automotive
We have specific products for the automotive sector, therefore suitable for the passage of fuels, oils, petrol, diesel etc.
Read