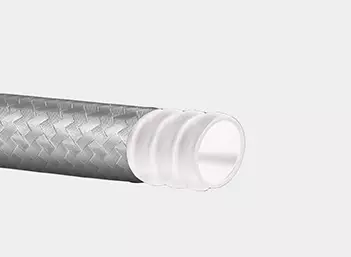 PTFE OND INOX
SATIHOSE®
Industrial rubber and pvc hoses
Use
Stainless wire braided one-layer P.T.F.E  convoluted hose suitable for hydraulic and lubrificant system, fuel and steam high temperature delivery. Particularly suitable for food, chemical and pharmaceutical industries.
Structure
Tube: convoluted P.T.F.E.
Reinforcement: stainless AISI 304 wire braid
Cover: stainless AISI 304 wire braid
Surface: braided
Special notes
NORMS: Iso 1307
*Variable size
Declaration of conformity
Automotive
We have specific products for the automotive sector, therefore suitable for the passage of fuels, oils, petrol, diesel etc.
Read
Textile and steel wire hoses
Read
Textile and steel wire hoses
Read